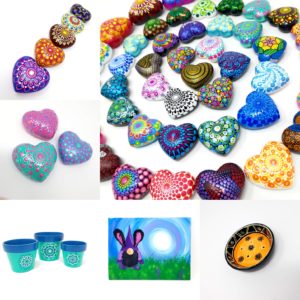 Hello! My name is Amanda Rogers and I am the artist behind Paintaholics Anonymous.
I started painting on canvas three years ago and fell so much in love with it, it has been my full time hobby since then, which is where the name Paintaholics Anonymous came from! In 2018 I discovered the world of dot mandala art and have been painting colorful mandalas on any surface I can find ever since!
In May of 2019, I designed and began painting small ceramic hearts which I call my 'bunny hearts'. These hearts are very special as a portion of the profits from them are donated straight to 10,000 Carrots Rabbit Rescue to feed and help rehome the bunnies in need.
You can find my work and follow the story of my rescue bunny on instagram @paintaholics.anonymous or if you live out of town and want to shop online or learn mandala art through my digital guidebooks visit me at
www.etsy.com/ca/shop/PaintaholicsAnon
Kindest regards
Amanda Rogers