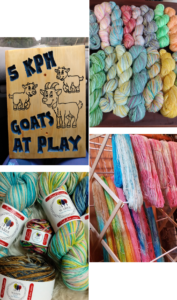 Hello, my name is Dorothy Peacock, and I am the face behind Wares from the Warren.
I've always been a crafty person.  I tat, knit, sew a little, dye yarn, spin wool, creat vinyl designs for shirts and signs, and a few other things.  Just like a rabbits warren has many trails, so does my crafting.  One thing leads to another, which leads to another.  Knitting lead to spinning, which lead to dyeing wool to spin, which lead to dyeing yarn.  That's where my shop name comes from; the many rabbit trails in my crafting Warren.
Dyeing yarn and knitting are my two favorite hobbies right now.  When I'm knitting I'm thinking about new colorways, and when I'm dyeing I'm thinking about what I could knit with the yarn.
My husband (Dan) and I work together to create custom wooden signs.  We love to take a person's idea and make it become a reality.