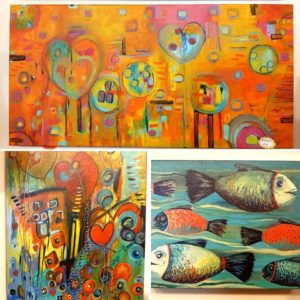 LINDA ATTAWAY
Intuitive Artist
I was born outside Liverpool, Nova Scotia, in the very cold month of February. As a youngster, I created the usual "refrigerator art" with crayons, pencils, paper, etc. I did not know whether I had talent or not; until, as an adult, I moved to Ontario. During that period, my painting endeavours were sporadic, but I discovered a true love for creativity. I found myself working in theatre designing makeup; costumes for various professional Operatic and theatrical groups and acquired my IATSE849 Union Card. This experience helped fulfill my continuing need to be creative. My love of seeing what I could achieve with stage make-up led me to try other mediums.
Beyond technique, through trial and error, plus, listening to encouragement from my soul; plus, researching, I find what I must put on canvas. In most cases, Intuition forms the basis of my art and produces the impressionistic or abstract result.
In 2017, I was interviewed by CBC Television and Radio on one of my pieces, which has a "Ghostly" provenance. The piece is entitled "Mysterious Guest" which will be included in award winning writer Vernon Oickle's next book of Nova Scotia ghost Stories.
I am excited that my paintings are residing in homes in different countries; and, that one Nova Scotian collector has several of my pieces. I currently live in Chester, Nova Scotia with my husband, Kenneth Attaway, PhD ABD who continues to support and encourage me to achieve new heights of creativity.
For further information, I can be reached at: 902-514-9553 or by writing to: bebeandme2@gmail.com
I am, also, on Instagram (Watson4Me).