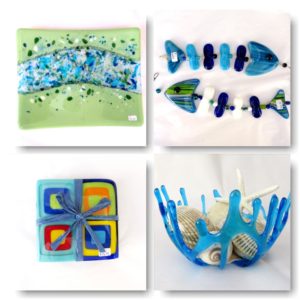 Glass, the oldest and most widely used material of all times, is the medium of choice for this artist. Her interest in glass began as a stained glass hobbyist however, after her first course in fused glass, with its endless possibilities, she was hooked and has never looked back. She has had the fortune of attending courses and workshops in Canada and the US with well known glass artists, each time increasing her skill and love of this art form. Hand-crafted in Lunenburg
County, the artist creates both decorative and functional fused glass pieces each one unique and one of a kind. The glasswork is food and dishwasher safe but not recommended for the oven or microwave. Her preference of glass colors reflects the   sea and coastal beauty of the area.
The process of fusing glass consists of taking multiple layers of glass, in various forms, and slowly kiln firing them to temperatures ranging from 593 °C (1,099 °F) to 816 °C (1,501 °F). A piece may be fired multiple times to create the desired effect, cold worked, and fired again to give it a polished finish. While time consuming, the end result is worth the effort.
For more information on her products, or to discuss custom work, please contact:
Sandra Purcell
238 Pentz Road, RR#1
Pleasantville, Nova Scotia
BOR 1G0
(902) 990-0989